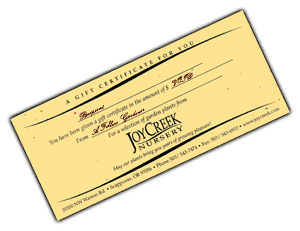 When you order a gift certificate on-line, we send a numbered certificate to the recipient of your choice along with a copy of our current catalogue.
If you wish to hand-deliver the certificate, we will send these items to you.
The certificate may be used to purchase any of our plants on-line or may be used at the nursery to purchase plants, containers and soil amendments in our retail area. It may also be used to make a partial or complete payment for landscape gardening services, such as consultations, designs, and installations for any recipient living in Oregon. You may order multiple gift certificates using our on-line ordering form. If you wish to order plants, please place a separate order.